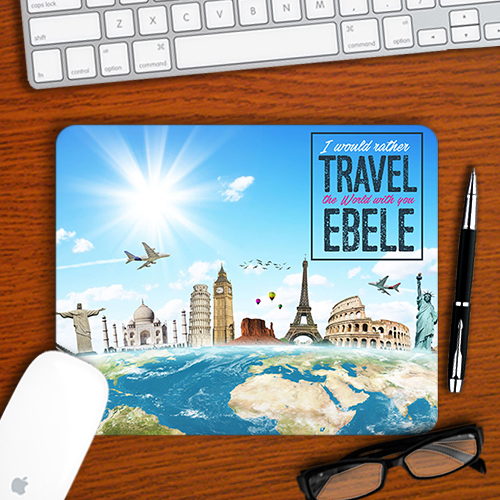 5 Ways To Jazz Up Your Mousepads
Before now, a lot of us didn't put too much thought to mundane things like mousepads. They were just one of those necessary office/home stationary we bought to make our work easier. I don't know about you but I prefer my external mouse to an inbuilt mouse. Which means my mousepads or any makeshift one (like notepads) are important to me. I'm sure there are a number of people that can relate.
But did you know that your 'boring' mousepads can be personalized? You know, here at Greetings World, our mantra is 'always make it personal' so don't blame us if we try to personalize every single thing.
Our job is simply to help you personalize even the most mundane things such that they make for memorable gifts. So, you might not really be interested in getting a personalized gift for yourself but what about others?
Moving on, there are a few ways you can jazz up your mousepads in such a way that the receiver remembers you with fond memories and puts a smile on his/her face. Of course, this depends on your relationship with the person in question.
But here are some ideas, just in case you need to celebrate someone special this year.
One more thing, mousepads are the kind of gifts that cuts across so don't be bothered about how appropriate they are.
1. Personalized African Print Mousepad
Does the receiver in question have a penchant for African prints? Then look no further. This is a perfect gift for him or her.
2. Personalized Marital Bliss Mousepad
Do you have a pair of newly wedded friends and you're stuck on what to gift them? I'm sure you do. Get hold of their pre-wedding photos and customize a pair of mousepads for each of them. They won't forget you in a long time.
3. Best Dad Mousepad
Have you been thinking of what to give your dad or your mom this season? It's not too late to get them a late Christmas gift. I'm sure they'll appreciate the gift and the thoughts.
4. Around The World Mousepad
Do you have a globetrotter friend? That doesn't really like to stay in one place but prefers traveling the world? Show him/her how much you appreciate their hobby or career as the case may be. And maybe, they might just get you something on your wishlist.
5. Personalized Beach Retirement Mousepad
I'm sure you have retired uncles and aunts just lounging around enjoying their retirement. You could always gift the computer savvy ones a personalized beach retirement mousepad.
6. Love Is All We Need Mousepad
How could we forget our relationships? Personalize your mousepad with a favorite picture of the both of you. Get two and gift him/her the second one.