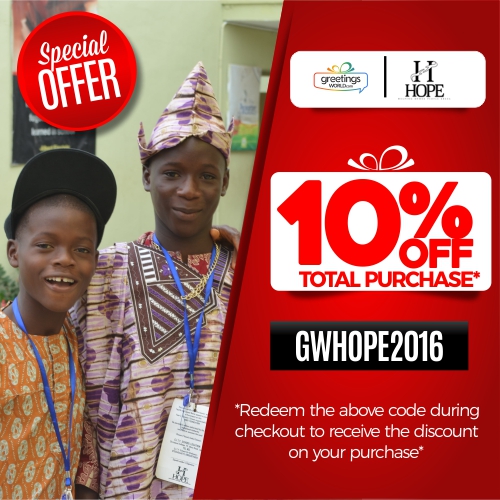 Greetings World will be giving a 10% discount on all items on offer from now till the end of the year. Here's a great way to save money on those cards and other gifts items on your wishlist. Wouldn't you like to be able to get that personalized greeting card, mug, mouse pad at a discount? Now you absolutely can with the EaglesHope and GreetingsWorld 10% discount offer.
EaglesHope foundation is a community development project of Covenant University alumni concentrating on helping other people excel. From high school kids in public and private schools across the country to supporting youth corps members whose ambition is to solve community problems, EaglesHope runs two programs C.I.T.Y( Catch and Inspire them young) -a character shaping program as well as C.A.F (Corper action fund).
There is also Dodos, an acronym for David Oyedepo day of service, an initiative that aims to impart, contribute and show love.
Showing love is our primary mission at Greetings World, and we are excited to partner with a foundation whose goals align perfectly with ours, hence we are doing our small part in promoting a great cause by also contributing 10% of our proceeds.
So whether you want to send your boss a greeting card or it's your mum's birthday or even get a customized mug or mousepad for your workspace, we've got just what you need. These items are available all year long.
Offer valid till….okay we won't get tired of spreading love, will you?
Follow us on Facebook, Twitter and Instagram, it's lonely without you!
[/av_one_full]