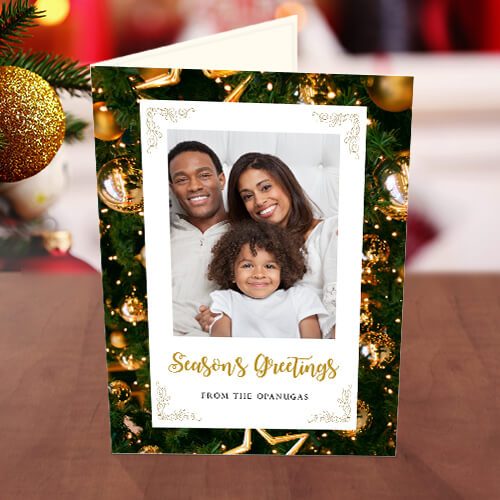 3 Ways To Personalise Your Christmas Cards
Christmas is a couple of days away and some of us have already started distributing our annual Christmas cards to those that matter. If you haven't, it's not too late, head over to the Greetings World gift store to order your Christmas cards.
Now, a lot of us are used to the generic cards which usually have minimal designs and a few type-written words. Sometimes, the words are not sufficient and we end up handwriting more things to pass our message across. This is fine but did you know that you can determine the entire outcome of your cards, from the designs down to every word written?
Well, now you know. You can decide to personalize the card and add a bit of personality to it so it isn't just boring, it can actually make for a great memorabilia.
Here are three ways you can dazzle your family and friends with your fancy personalized cards this Christmas.
1. Use a family photo.
There's a reason why celebrities have Christmas photo shoots. There's a reason a lot of attention is paid to family photos especially the ones taken around the holidays. It's simply because the best ones are often used for personalizing Christmas cards. It gives the card that extra touch and of course, there's nothing more appropriate especially if it comes from a family. Family photos have changed the game of Christmas cards in recent times which is why you should totally get on it.
2. Use a hand-lettered design.
Okay so maybe you're a single pringle and you haven't settled down yet so there isn't any family photo to show off. Well, you can still personalize your Christmas cards by yourself. If you're the artsy type, this is a great way to utilize your skills but if you aren't I'm sure there's something you can do that would still scream 'YOU!'
3. Use some watercolor.
Many of us may not have been paying attention during Fine Arts class in elementary school and that's fine. I'm sure they're a way to create a decent looking watercoloured Christmas card that you can give to your family and friends. If not, you might have to stick to a hand- lettered design. While you're at it, you an also incorporate ombre designs to give your cards that extra oomph!
With these tips, you really have no excuse to give a bland Christmas card this year. Also, don't forget to write a special message for your personalized cards.
So, go forth and unleash your inner creative.
Merry Christmas from all of us at Greetings World.